Name: Macy Holloway
Title: Consultant, Planning Team
State: Hawaii
Five things about Macy:
Favorite Color: Purple
Favorite Book: Neverwhere, Neil Gaiman
Favorite Movie: Evolution (2001)
New Hobbies: Knitting and Pickleball
Favorite places to hang out on the island: Royal Hawaiian Golf Course, Halona Beach Cove, Sunset Beach
Why did you choose to work in this field? 
I chose to work in this field because of an internship I had during grad school. I interned with the American Red Cross and then continued volunteering afterward. In my head disaster management was all storm chasing and handing out water after hurricanes, but at the Red Cross we took calls from people every single day impacted by small floods, fires, and landslides that destroyed their homes. We connected them with local organizations so they had the necessities they needed to continue feeding their families, going to school, and going to work. It opened my eyes to how emergency management/disaster relief organizations were able to help their communities in both ongoing and substantial ways. 
Why do you like working with RZHQ?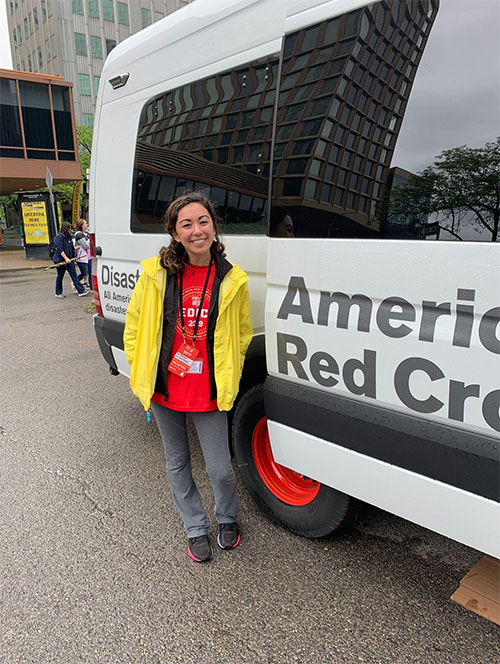 I like working with RZHQ because the work is challenging and the team is awesome. When I first started I felt a bit in-over-my-head with the assignments, but that only lasted about one or two months. I have never had a job where I felt challenged each week to push myself and learn new skills and I personally really appreciate that aspect of this work. The RZHQ team is incredibly supportive and very open with one another when we might need an assist or are interested in trying new ideas on a project and I really value that.
What is one of the most interesting projects you have worked on? 
The most interesting project I have worked on was when I had to cover the Hawaii COVID-19 Vaccination Program's Vaccine Medical Advisory Working Group meetings. These meetings start at 5:30 PM and last for about two hours. The speakers cover information from the Centers for Disease Control and Prevention (CDC) Advisory Committee on Immunization Practices (ACIP) meeting and then host a discussion at the end. I felt pretty knowledgeable of COVID-19 and the vaccinations from our ongoing work, but had no idea just how comprehensive this meeting would be. I found it incredibly interesting and felt like I had a much more profound understanding of how the mRNA and Janssen vaccines worked.
What is one of the most pressing issues in our field?
I believe integrating additional hazard mitigation measures into disaster preparedness is one of the most pressing issues in our field. As extreme weather events continue to worsen, we must look ahead and proactively build resilience within our communities to reduce our vulnerability to these inevitable events. 
What does a normal work day look like for you?
On a 'normal' work day, the team typically has a morning huddle where we share our goals and priorities for the day. Oftentimes, I then sync up with my direct supervisor, to ask questions or let her know if I need anything/ask her if she needs anything. Then, I might support another team member, update a slide deck, update a few pivot tables with new data we just received, or reach out to a few of our external partners for information on a project. It is pretty up in the air day-to-day. Sometimes I have external meetings to cover wherein I will pop in, take some notes, and let those stakeholders know of any RZHQ updates. Other times, we will hear of a need from our clients and work to research and prepare materials for them that same day (e.g., surveys, one-pagers, flyers). Then there are some days in which I will find an extra hour to take a FEMA Independent Study course or learn new data visualization skills on Tableau. Those days are like finding a golden ticket. 
Just for fun!
If you could have any superhero power, what power would you have and why? I would like to be able to fly. I love being in airplanes and looking down from up above. Also I think it would be cool to go to space, I would mainly use it to go to space.